Dr. Emily Parke, D.O., is a certified functional medicine doctor, board-certified in anesthesiology & pediatric anesthesiology, and trained in medical acupuncture. She's an experienced speaker in the medical and functional medicine community, and presently gives talks on a wide array of subjects.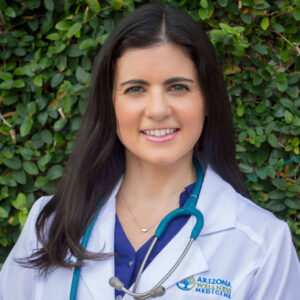 Her journey to functional medicine
Upon graduating from medical school, Dr. Emily completed her anesthesiology residency at the world-renowned Cleveland Clinic (consistently ranked one of the top 3 hospitals in the world), where she served as Chief Resident from 2006-2008. Seeking to further her training, Dr. Emily then pursued a fellowship at the Children's Hospital of Philadelphia (consistently ranked one of the top 3 children's hospitals in the US), where she was named Chief Fellow. At the conclusion of her training, she moved to Arizona, where she practiced as a pediatric and pediatric cardiac anesthesiologist undertaking complex and high risk cases. In addition to this work, she served as the Vice Chair of the Pediatric Pain Medicine Department at Phoenix Children's Hospital from 2010-2012. 
A born achiever who dedicates 100% to the task at hand, Dr. Emily was fully committed to her role as an anesthesiologist. However, as the demands of her position took a toll on her own wellbeing, she became unsatisfied with what she perceived to be an overreliance by the medical community on "band aid solutions" like pills and procedures, rather than seeking to treat the underlying causes of a patient's health concerns. On the recommendation of a friend, she first turned to acupuncture for her own care and was impressed with the benefits she experienced.
Upon discovering the curative possibilities of acupuncture, Dr. Emily was convinced she could use it to help her patients and completed her training in medical acupuncture via the Helm's Institute, the premier physician acupuncture training program in the US. During her training, she met physicians practicing Integrative and Functional Medicine alongside acupuncture, which then sparked her own pursuit to learn more about Functional Medicine. This led to her training with the Institute for Functional Medicine (associated with The Cleveland Clinic) and becoming a Certified Practitioner. She has also completed the Kresser Institute for Functional and Evolutionary Medicine ADAPT clinician training program and is currently only 1 of 2 physicians in the state of Arizona with both of these certifications.
To book Dr. Emily Parke for a speaking event please email 
contact@dremilyparke.com
 or visit our engagement page to fill out a form.
FUNCTIONAL MEDICINE AS A SOLUTION
A better approach to total health
Functional medicine addresses the whole person, instead of a set of symptoms, by shifting the focus from disease-centric treatment to a multi-dimensional understanding of how the full spectrum of a person's life impacts their overall wellness.
The need for functional medicine
Increases in chronic disease demonstrate that our society is dealing with a health crisis. Traditional medicine emphasizes acute treatment for issues that have already risen, whereas functional medicine emphasizes finding and treating the causes of symptoms and disease using the following science-based strategies:
Nutrition
Exercise & movement
Sleep
Advanced laboratory testing
Stress management
Toxin reduction
Through this full-spectrum approach to each person's total wellbeing, functional medicine offers a comprehensive solution to not only ease chronic conditions but prevent them entirely.
ARIZONA WELLNESS MEDICINE
Practicing true healing
Dr. Emily founded Arizona Wellness Medicine on the principle that only a thorough understanding of a patient's health and life history, current symptoms, and laboratory investigations can lead to purposeful and effective solutions. Guided by the goal of assisting each patient through their journey to complete wellness, Arizona Wellness Medicine is a trusted partner for those seeking a personalized functional medicine approach.