This delicious sweet potato based recipe is a perfect for fall. Enjoy as dinner or as a side with lunch. This recipes if gluten-free, paleo, dairy-free and vegetarian.
From wiki:
Besides simple starches, raw sweet potatoes are rich in complex carbohydrates, dietary fiber and beta-carotene (a provitamin A carotenoid), while having moderate contents of other micronutrients, including vitamin B5, vitamin B6 and manganese (table).[37] When cooked by baking, small variable changes in micronutrient density occur to include a higher content of vitamin C at 24% of the Daily Value per 100 g serving (right table).[38][39]
The Center for Science in the Public Interest ranked the nutritional value of sweet potatoes as highest among several other foods.[40]
Sweet potato varieties with dark orange flesh have more beta-carotene than those with light-colored flesh, and their increased cultivation is being encouraged in Africa where vitamin A deficiency is a serious health problem. A 2012 study of 10,000 households in Uganda found that children eating beta-carotene enriched sweet potatoes suffered less vitamin A deficiency than those not consuming as much beta-carotene.[41]
This recipe was contributed by Maya Nahra.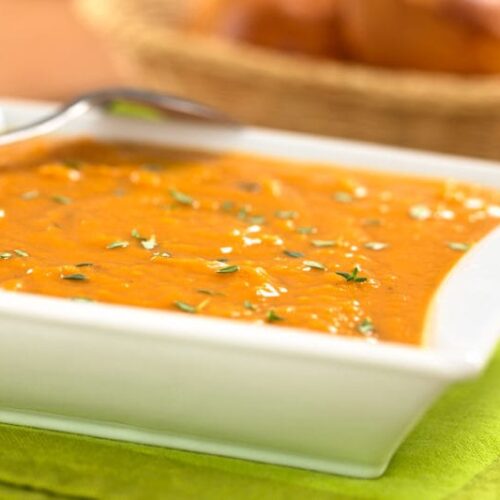 Roasted Sweet Potato & Coconut Milk Soup with Fried Sage
Ingredients
3 1/2

Lbs

Organic sweet potatoes

Peeled and quartered

1

Can

Coconut milk

3-4

Cups

Homemade or high quality chicken stock

1

Bunch

Fresh sage

4

Cloves

garlic

Peeled and minced

3

Large

Shallots

Peeled and chopped

Extra virgin olive oil

Unrefined sea salt

Cayenne pepper

Freshly ground black pepper